From camera to computer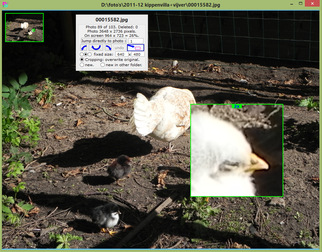 After you have transferred your photos from your camera to your computer, what is the first thing you want to do with them?
For most people that will be selecting which photos to keep and which ones to throw away immediately. But how do you decide which ones are worth to keep and which ones to throw away? Often the difference is in the detail.
For instance, you might have two photos which are quite similar and you want to keep the one which is the sharpest on some important detail of the photo.
Photoorganizer makes it very easy to compare successive photos for this purpose. The photo itself is shown in a window (or fullscreen) and you have a magnifier in a piece of the photo. With the arrow keys you switch between photos, but the magnifier stays , so you see the same piece of the next or previous photo enlarged on you screen. The two photos are very easy to compare. And with one press on the delete key, you mark the photo which lost that little competition as 'to be deleted'.
After you have walked through the whole folder and have marked all photos which appear to be superfluous, you press the End key and then you choose what to do with them. Delete them, remove the mark, or move them to another folder. It's safe and efficient. During this process you can also rotate (lossles) and crop your photos.
A vacation nightmare
Suppose you are on vacation. You carry a camera and your wife, husband, son or daughter uses another camera. There is some nice event going on and you both make a lot of photos from different angles. Later you put all photos from both cameras on the computer with the intention to make a synchronized show from all of them.
They are all in the same folder when you look at them. But then you find out that the clock in the cameras were not exactly synchronized. So, even if they are sorted according to the EXIF time, the story which is told by the photos seems a bit weird. Out of order. This kind of unpleasant surprise can very easily be 'repaired' by Photoorganizer.
Photoorganizer can simply shift the EXIF time from all photos which are shot by one of the cameras with a precise amount of time, so that all photos are in sync with each other. But it can also write an EXIF time in any photo which does not yet contain an EXIF time. This makes it possible to add any photo in your collection, regardless of the source (like for instance a scanner which does not add an EXIF time) in your collection and keep the logical sequence by correcting an adding the EXIF time.
And if you wish, it can then rename all photos to a bit more logical name, like a serialnumber.
Photoorganizer knows which was the highest number when he last did this renaming, so it automatically chooses the next number. In this way you always create a new name and the photos are always shown in chronological order if they are shown in alphabetical order (which is the default for most programs).
Organizing your photos
But okay, then you have a folder with your newly shot photos in it, but it seems logical to divide them in other folders, to keep them somewhat categorized. This is the next logical step in the process of integrating your new photos in your system.
For this purpose there is a 'folder' function in Photoorganizer. Simply choose a folder from your own pre-defined list (or create a new entry in that list) and Photoorganizer automatically moves the photo there (or copies it there, depending upon your setting).

Photoorganizer can organize all of your jpg photos. And now it can also turn and crop your photos loslessly. But it can't show or work on any other photo format. It is fully optimised to work fast and efficiently for editing the IPTC data in the jpg photos and organizing where you store your photos.
Also for 'en route'
Photoorganizer is small. Fast. And it doesn't need to be installed. Simply unzip photo_organizer.zip to the location of your choice. In this zip file are all the files you need, apart from windows itself. It will run on any windows machine, even from an USB stick.
So you can carry the program with you, wherever you go. If you are working from an USB stick, Photoorganizer will not leave any trace of itself on the hostmachine you are working from if you choose to create only files on your USB stick. Very convenient if you are 'on the move'.
The program is made as self-explanatory as possible. And in the program itself there is not much help information available. This is done to keep the program as small as possible.
However, the program does contain a link to this explanation on the web, to this FAQ list on the web and to this form on the web. The explanation will also become available as a downloadable pdf file, so you can also have it with you 'on the move' if there is no internet connection available.
Are all of your photos scattered around on your computer?
Your collection of photos keeps growing. And in the beginning of the digital era you were not so well organized in regard to the location of your photos on your computer. Does this sound familiar? And did you wish that you would find the perfect tool to help you to get organised? Look no further, here it is.
Photoorganizer can scan a complete harddisk, looking for all photos. It then copies all of them to one folder. It will add serialnumbers in their name if it finds more photos with the same name. It creates a database in which it stores where the photo came from and where it is copied to. Then you can easily walk through that whole folder and move those copies to your new system, using the automated folder function. If that means the added serialnumber is not needed anymore, it is removed from it's name. And you can delete the photos which you don't want anymore.
After you are done with this selecting of the photos which you want to keep in your new system, Photoorganizer can then read the database and will delete the original photos which it originally copied to that one big folder but which are not in that folder anymore. All original photos which copies are still present in that one big folder will be left untouched. After you have done so, you can delete that one big folder with it's content. It has served it's purpose.

Final result: All your photos which were scattered around on your computer are now neatly organised and all doubles can now have been deleted (If you wish so).